Greetings, Sacred Sister
In a world that has forgotten the depths of its power, pleasure, and magic, your existence is a beacon of hope for the Divine Feminine...and the world.
I'm Maddie, your intuitive guide and fellow traveler on this journey of sacred reclamation.
My love, the magic that dances through your veins is eternal; it has merely been awaiting your remembrance.
My purpose is to rekindle your sacred inner fire and guide you on this journey of reclaiming your innate magic & divine feminine powers.
Moon Goddess Membership is a sanctuary for awakening sisters like you – seekers of feminine power and keepers of ancient wisdom.
MGM is an invitation to step into the sacred essence of your own existence – to honor, nurture, and align with your true divine feminine power.
You are a symbol of hope in a world that has forgotten its true potential and magic.
As your bond with your divine feminine magic deepens, the radiance of your purpose on this planet grows more powerful.
Step into a realm where your soul's wisdom awaits to be reclaimed.
Embrace the journey of self-discovery, connection, and growth, and become part of a community that cherishes the essence of our shared human experience.
This membership is an invitation to reclaim the wisdom of your soul.

Welcome home.

What Awaits You in Membership:
✨ A Portal for Empowerment: This membership portal is your gateway to the infinite well of feminine power, offering guidance, tools and wisdom for your soul-led journey. 
✨ 77+ Tools for Healing & Transformation: Unlock a over 77+ healing & reclamation tools designed to resurrect the sacred divine feminine power.
✨Accelerated Healing & Growth: Moon Goddess Membership seeks to expedite your personal transformation. In this portal, you'll find potent tools to expedite your healing, embrace your growth, and awaken the dormant power that rests within. 
🔮Receive Monthly Readings: In our monthly MGM Readings led by Maddie, you'll receive channeled messages from Spirit, cosmic energy updates, and transformative guided energy healings & meditations. These offerings work harmoniously to rekindle your sacred essence and foster a deeper connection to the mystical realms.
🌌 Cosmic Energy Updates: Cosmic energy updates offer profound insights into the cosmic energies at play, guiding you to navigate each phase of life with grace and deeper consciousness.
🌙 Unlock the Magic of Cycle Syncing & Embrace Your Divine Feminine Rhythm: Step into the sacred dance of your divine feminine rhythm, where every phase of your cycle becomes a source of empowerment and alignment. With Moon Goddess Membership, you'll unlock an abundance of cycle syncing tools, crafted to harmonize every area of your life with your innate cyclical essence. Embody a deeper level of nurturing for your physical, emotional, and spiritual well-being.
🌕 Embrace the Moon's Guidance with Tools for Lunar Alignment: Step into the enchanting world of lunar alignment with the Moon Goddess Membership. Here, you'll uncover a treasure chest of Moonology tools designed to harmonize your life with the ever-changing lunar phases. 
🌙 Rituals for Cosmic Connection: Access moon rituals, Moonology lessons, guidebooks, moon meditations, and the art of manifesting with the moon. By immersing yourself in these sacred practices, you'll cultivate a profound connection to the cosmos, finding bliss, flow and guidance in the moon's wisdom.
🪄Manifestation Magic: Learn the art of manifesting with the moon. MGM Moonology tools will show you how to harness lunar energies to turn your dreams into reality with the luminous power of the moon.
🌕 Moon Meditations: Embark on guided lunar meditations, deepening your connection to the moon's energy and receiving its blessings.
✨ Guided Energy Healing & Meditations: Unlock over 20+ guided meditations & energy healings to gently restore the bliss of your being. These transformative meditations & energy healings are designed to harmonize, heal, and elevate your spirit.
✨ Community of Seekers: Join of a vibrant community of kindred spirits who share your journey of discovery.

Picture yourself...
Deeply attuned to your feminine power, a force that ignites every corner of your existence.
Imagine knowing exactly how to honor mind, body, and soul through each phase of your unique feminine journey.
Imagine unshackled freedom, as you draw from an infinite reservoir of power, becoming the soul-led artist of your reality.
Envision a life where your manifestations dance with the moon's rhythms, and every step you take aligns harmoniously with the heartbeat of Mother Earth.
Feel the exhilaration of being guided by your intuition, a compass that leads you with unwavering wisdom.
Experience the liberation that comes from surrendering to the natural flow of life, as you find unyielding support in the embrace of the Universe's benevolent embrace.

Have a look inside the MGM Portal...

What MGM Members Are Saying:
🌙"Queen!!! Your MGM is amazing thus far!!' I am only 21% complete and am so excited to see the changes that come up for me with pushing thru the next season of my cycle!!! I've had such deep masculine wounds creating my feminine to dissolve away from my soul mission, once I started with your meditations and MGM my feminine has began to shine thru again!! After almost 27 years of dreading my cycle I'm finally embracing it for the gift of life it is!!! So thankful for your beautiful soul and being guided to you and your beautiful work!!!"
🌙"Moon Goddess Magic has helped me heal my throat chakra. Tapping into my goddess energy has helped open my throat and speak my truth-I didn't even know I needed that. I used to not say things and bottle them up because I felt like it wasn't worth my energy to speak how I felt. But OMG, the way embracing my sexual feminine energy has shown me how to speak my truth!" -Karla
🌙"I have been going through sooo much and the Moon Goddess Magic portal has been like home for me in chaos. I already understand myself SO much more and I'm only 12% into it! I can't get enough. The light codes were magnetic instantly and that has been my favorite part so far, I keep going back to re-listen! Thank you for thinking of this and putting it into the world for us." -Melinda
🌙"I got MGM some time ago and I am so glad I have it in my life! The content is super good, exactly what I need at this point in my life. I love the movement practices (honestly these have changed everything for me). I am much more connected with my cycle now. I have also learned to understand myself better during my cycle. It has helped me feel more clarity, stability and peace in my life and definitely feel more aligned. Thank you! I absolutely love all that you do and I'm grateful you exist."

🌙"The night before I bought MGM it I was really thinking whether to buy it or not, and that night I had a dream of a person handing me a gift box that had pictures of the universe in it and I saw the number 111 on it. I felt like if I wouldn't take this gift I would miss out on something. So the next day I bought this course. It was definitely a divinely guided gift and has been a good decision."

🌙"Just enrolled in MGM and only had enough time to sit to go thru the 1st reading but I'm so amazed at how this reading connected so deeply to my soul and how beautiful it is!!! The end when you asked to repeat the saying had me cry tears of cleansing! So beautiful to experience and I'm so excited I jumped in, to have access to your magical wisdom!!"
🌙"Just had the most amazing New Moon water cleansing meditation from MGM! I can not soak up enough portal knowledge! I will never get over how divine it feels to connect with you on this journey. So grateful for you!" - Corinne
🌙"Holy efff I just had to message you because I joined MGM today and just watched the first reading and wowowowowow. You spoke to my SOUL! I needed this.. I had a deep soul yearning & this is what I needed. I cannot wait to continue this journey."
🌙"Maddie I'm so happyyyyyyy! I FINALLY got Moon Goddess Membership and it's so freaking wonderful, magical & beautiful. I'm just in love with all of it so thank youuuu!"
🌙"Maddie, you're with me everyday -- Moon Goddess Membership is part of my routine now and you're truly an angel guide to me in these days...I'm so glad and grateful for it :)"

The Call of Reclamation is ringing. The time has come for us, as sisters, to shatter the chains that have kept us from our sacred birthright. We've roamed this Earth far too long without our embodied feminine power.
I invite you to join this collective reclamation of the sacred feminine. Let us, as sisters, journey together into the realm of our forgotten power.
Moon Goddess Membership awaits, ready to guide you back to the magic that has always been yours. Rise, sis, Rise. 
May your life forever be touched by the moon's luminous grace.
With love,
Maddie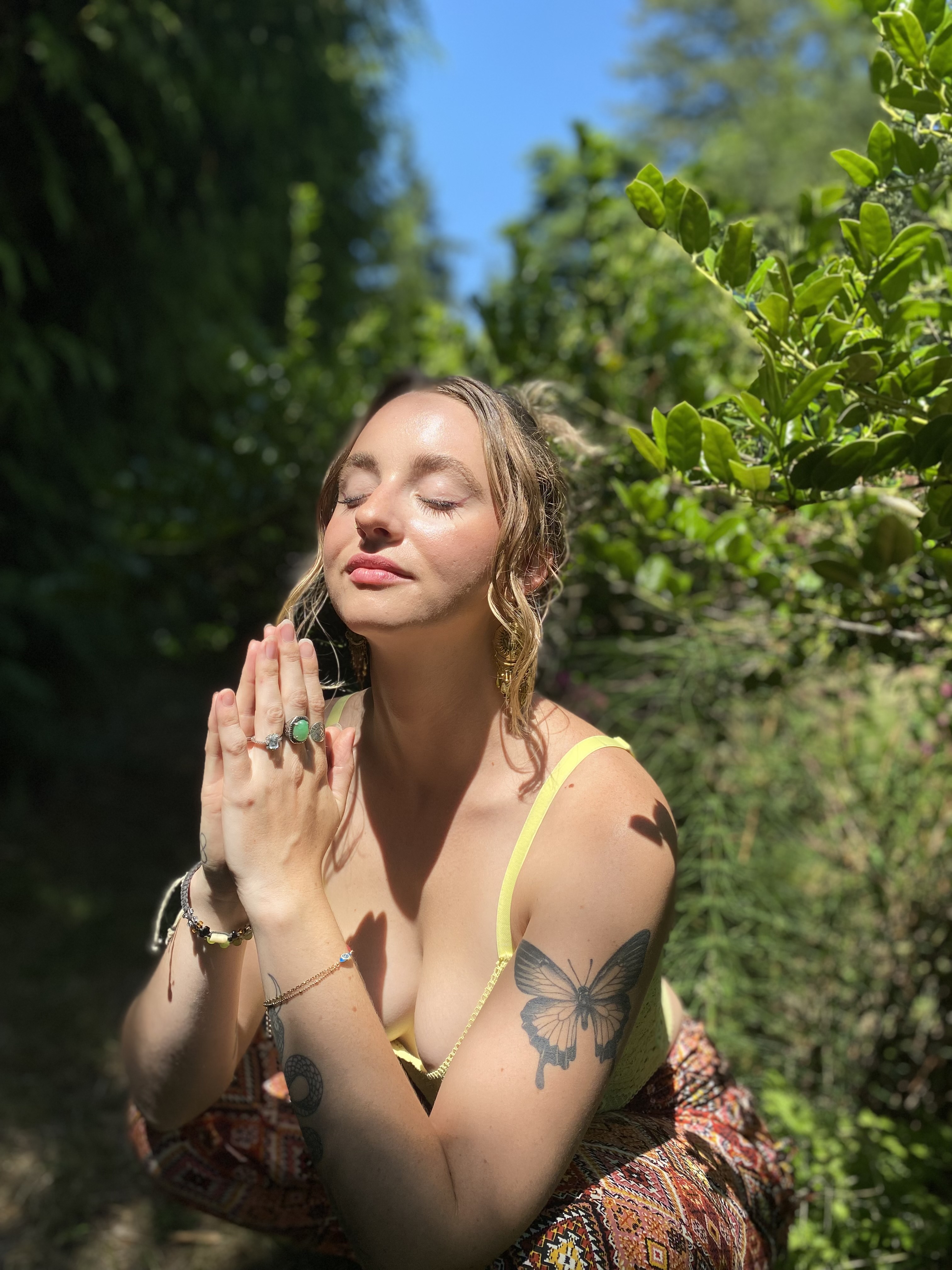 MEET MADDIE

Maddie is a Mystic, Intuitive Guide, Healer, Spiritual Mentor and Influential Teacher of the Intuitive Arts

Maddie has become a worldwide beacon of light for those seeking guidance and transformation. Her rich life experience and intuitive gifts have carved her unique path as a multidimensional practitioner. With a diverse range of soul skills including being an Intuitive Guide, Spiritual Mentor, Angel Medium, Healer, and Influential Teacher of the Intuitive Arts, Maddie has touched the lives of countless individuals around the globe.
Guided by an unwavering commitment to helping others, Maddie has empowered thousands of clients to delve into the depths of their being, fostering a profound connection with their truth, purpose, intuition, and power. Through Maddie's teachings, intuitive guidance, mentorship, and unique soul gifts, countless beings have found the courage to embrace their authenticity and embark on a journey of profound transformation, unlocking their innate power to live a life guided by intuition and in alignment with the Soul.
Rooted in a profound mission, Maddie seeks to inspire humans around the world to live a soul-led life, paving the way towards a more meaningful existence. Maddie believes in the boundless potential that lies within each of you, waiting to be awakened and embraced.
Your soul has been waiting for you, it's time to find your way home.